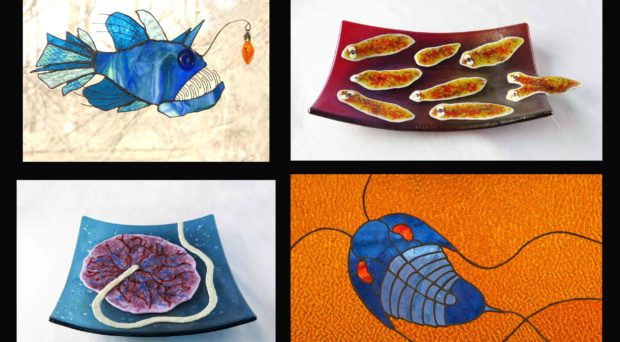 What is your scientific background?
I studied geology and zoology at the University of Michigan, graduating in 1980 with a BS in Geology. I went on to receive a MS in Paleontology in 1983 from the University of Wyoming studying fossil mammals of the Paleocene.
How did you transition from the lab to your current job?
After graduate school, I spent time raising my children as a stay at home mom. I wanted my children to have a strong science education, so I volunteered in my children's school and took the lead in enriching the science curriculum. I invited local scientists to come and speak to students, I ran the school science fair, taught an after-school science program, and helped kids create a series of videos demonstrating science experiments.
These experiences taught me the importance of teaching the scientific method: Find a hypothesis and figure out how to test it. There are no wrong hypotheses; you learn as much from hypotheses you disprove as from ones you support.
Along the way, I took up glass art as a hobby which would eventually lead to a career as a science artist. I started my business, Trilobite Glassworks, about 8 years ago. At first the name was just a nod to my education. The art I sold was 'decorative' and 'pretty' until customers came through my craft fair booth asking "Where are the glass trilobites?" It was a slap-forehead moment.
I went home and changed what I was doing in the studio. As I started making trilobites, and also insects, planarians, and microbes, I began to sell more and more. I discovered there was a huge market out there for science art. Not only did my geeky bugs sell better than my 'decorative' pieces, they were much more satisfying for me to create.
Turning entomology and microbiology into art has also given me a chance to educate people who would normally run from my 'gross', 'creepy' subjects. Intestinal parasites and disease-causing bacteria might not attract the average person wandering by, but when they are incorporated into an art glass dish, it gets people to stop, and it starts a conversation.
The hardest thing at the beginning was having confidence in myself and my work. My work was very different than anything else out there. It took me awhile to realize that this uniqueness was a huge part of what would eventually drive my success.
How do you spend your day in your job?
A typical day for me is spent both in the studio and in the office. In the studio I am working with the glass: designing a project, cutting glass, grinding, foiling, assembling, soldering, working the kiln, etc. In the office I am working on the computer, marketing my work, maintaining a website, posting on social media, answering emails, ordering supplies, conducting inventory, applying for gallery shows, and researching new projects.
On less typical days I may be attending gallery openings, giving artists talks or giving demonstrations. I exhibit at art fairs and science conferences, and take 'master classes' to learn new skills.
It took me awhile to realize that this uniqueness was a huge part of what would eventually drive my success.
My interactions with other artists are often as rewarding as my interactions with scientists. Not all of them understand why I am making bacteria and leeches instead of angels and flowers, but many of them are curious about what I do.
 What do you like most about your job?
I really enjoy the process of collaborating with a scientist to make a commissioned piece, especially when it allows me to learn new subjects. Through communications with the scientist and my own research, I immerse myself in the subject trying to learn everything I can. Once I have a firm understanding of the science, I then try to visualize it.
Finally, I figure out how to interpret that visual with glass. I commonly make small tests and run those by the scientist for feedback. Through this process, I end up learning a lot of cool science and I'm also pushed to develop new art glass techniques.
I have learned about a wide range of subjects from these commissions, eg: immunotherapy using t-cells, antibodies, and fusion proteins; testicular anatomy of planarian; Tarpon Leptocephalus (larval fish); and the life cycle of Phytophthora infestans (the oomycete that causes potato blight).
Though my background in Mammalian Paleontology certainly did not involve any of these subjects, having a foundation in basic biology and science makes it easier for me to comprehend and absorb the additional knowledge necessary to create fairly accurate artistic depictions of them.
Besides the fun of learning about new scientific subjects, and the joy of making them artistic, my science background has really aided my craft. To become adept at fused glass requires scientific precision and attention to detail.
These experiences taught me the importance of teaching the scientific method: Find a hypothesis and figure out how to test it.
I need to understand coefficients of expansion, chemical reactions, and optical effects in order to ensure that what comes out of the kiln is what I have in mind. I have a 'lab notebook' in which I record what goes into each 'experiment' to ensure that I can replicate it. I certainly have a lot of 'disproven hypotheses' – cracked plates, planaria with eyes that don't cross, and tardigrades with spindly legs. All part of the scientific process!
I've also been lucky to find customers who embrace my quirky sense of humor and are always game for me to add my humorous touches. This could be in the form of a 'cross-eyed' planarian hanging off the edge of a plate, or a small lightbulb used as the bioluminescent lure on an anglerfish sun-catcher, or simply the absurdity of a very large plate featuring a human placenta.
The ultimate satisfaction comes when the piece is finished and there is a huge smile on my customer's face. I have found that scientists (and science enthusiasts) are tickled to death that there are artists willing to make their 'study subject' into works of art.
Do you have any advice for current graduate students and postdocs looking to move out of the lab?
Making a living wage as an artist is difficult. You may need to maintain a 'day job' for a while as you develop yourself as an artist. You may need to teach art classes to make ends meet and do production work (i.e. make multiple copies of the same pieces to sell wholesale). Marketing yourself is key and will keep you out of the studio for disconcerting amounts of time.
Success comes when you stand out from the crowd. This means you have to develop your own unique style and your niche. Choosing to focus on science art was a huge boost for me in finding my artistic voice. Discovering how to reach your niche market is also key. As a science artist I've had success with social media, applying to science-themed gallery shows, exhibiting at science conferences, working hard on establishing an online presence so that I appear in Google searches and enthusiastically embracing commission requests from scientists.
Think outside the box. Worrying about 'right' and 'wrong' squelches creativity. Be yourself. The world of art can be very 'serious' and 'important' (this is driven in large part by art academia and not by art consumers). I've gained success in part, because my work is NOT 'serious'. It has elements of humor, color, and whimsy. I stay true to myself and try never to 'please the judge'.
Where can you be reached if readers want to ask you more about your job?
You can contact me at janehartman@verizon.net or see more of my artwork at Trilobite Glassworks.
---
Join the conversation by commenting below or using the #moretoscience hashtag on twitter. Do you have a job in science that you love, or know someone who does? Contact me at dana.berry@biomedcentral.com or @DanaBerryBMC if you're interested in participating in our series.