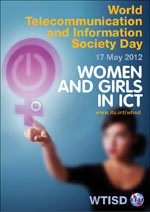 World Information Society Day aims to help raise awareness of the many possibilities that the internet, and other information and communication technologies (ICT), can offer to societies and economies as well as a way to help bridge the digital divide.  
What was once known as the World Telecommunication Day, which celebrated and acknowledged the development in the advances of communication technology, the 17th May continues to mark the anniversary of the founding of the International Telecommunication Union (ITU) and the signing of the first International Telegraph Convention in 1865. In November 2005 the World Summit on the Information Society called upon the UN General Assembly to declare the 17th May as World Information Society Day.
As a follow up from the recent launch of ITU's new global campaign 'Tech Needs Girls' this year's theme is 'Women and Girls in ICT' which hopes to highlight the gender inequality that remains deeply entrenched in underprivileged populations and communities. With women and girls being denied access to basic health care, education and to equal opportunities at work, the 2012 theme aims to enforce gender equality as a basic human right and provides the chance for the vulnerable half of the population to march forward as equals.
ITU, UNESCO, UNCTAD and UNDP are actively taking part in the day by co-organising the WSIS Forum 2012 event (14-18 May) which will represent the world's largest annual gathering of the 'ICT for Development' community. There are 18 WSIS Project Prizes that will be awarded to organisations and individuals who have achieved exceptional results in extending ICT access to disadvantaged populations and communities. In addition to the awards there is a special focus on women and technology which will feature experts from around the world and prominent public figures including Academy-Award winning actress Geena Davis.