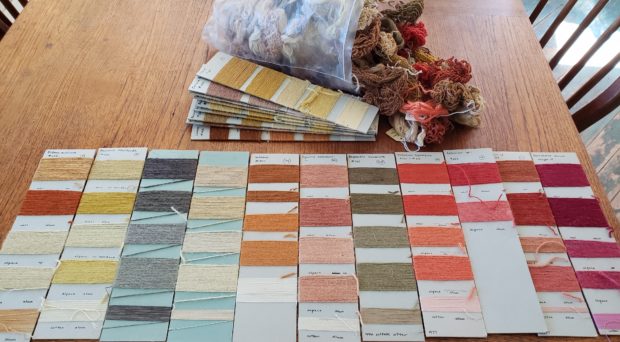 © Kay and Erik Antúnez de Mayolo
The study of the Peruvian dyes collection published in Heritage Science first began during the 40th International Symposium on Archaeometry held at the University of California, Los Angeles in 2014.
One of the UCLA students saw the "Saltzman Collection" referenced on the poster that Dr. Armitage was presenting and asked if there was any interest in seeing that collection.
At the time, Dr. Colombini and Dr. Armitage were talking at the poster, and both were excited to see the materials we had heard so much about in our studies of pre-Columbian dyes from Peru.
From perusing the book full of yarn samples came the idea to undertake a comparative analysis of the dyes with multiple techniques.
But we did not realize at the time that we knew only part of the story.
After relocating to southern California from New York in the 1970s, Max Saltzman, an industrial chemist, created a research laboratory at UCLA so he could continue to study ancient dye colorants as he had done avocationally prior to his retirement.
In 1975, he met Kay Antúnez de Mayolo who was completing thesis work for a MS degree focusing on the ethnobotanical topic of Peruvian natural dye plants.
In 1977 he received a grant from the Smithsonian Institution that sent Kay and her Peruvian husband Erik to Peru for five months to continue collecting dye plants with a focus on the red dyes.
The Antúnez de Mayolos made three forays into areas where she had previously collected dye plants and many others based on information gathered from Peruvian herbarium collections, botanical and historical literature research, and contact with Peruvian natural dyers and others involved with contemporary textiles.
She also made yarn dye samples from the botanical collections which were later used by Saltzman in his work. The herbarium specimens collected for the MS and the 1977 collections were deposited at herbaria in the US and Peru.
The botanical fieldwork and later challenges of identification of the specimens provided the Antúnez de Mayolos an especially rich adventure.
Kay has shared her experiences about  traveling through Peru during her MS fieldwork, using buses and trucks to take her to the edge of towns where specimens were thought to be located.
Her later adventures with Erik involved a VW Beetle loaded with plant presses, combining camping, hiking and chatting with Peruvian weavers, herders and many others who shared their knowledge of plants and their uses.
She also met and relied on botanical experts in Peru and the US who helped with the challenges of plant identification from a flora that is vastly under described.
One of her red dye specimens, a Galium (Relbunium) species was later named for her, Galium antuneziae.
The many contacts, a story of "one leading to another" also describes how the authors of this blog post met—this occasion through Kay's curiosity earlier this year about "what happened to Max Saltzman" only to discover our article that gave Professor Saltzman credit for assembling the UCLA Peruvian dye sample collection that we used for our research.
Through our conversations, this story continues with ongoing work using the 25 duplicate dye samples she shared with the EMU lab to explore natural dyes made from identified plant material from Peru.
We have already begun the analyses and look forward to publishing the results on the Antúnez de Mayolo collection of Peruvian dyes soon.
While Kay's contribution was initially overlooked, we are so happy to be able to give her the credit she deserves for all her work in collecting and preparing these materials. They will shape the future of the analysis of ancient South American textiles for years to come.